Bad Dilettante. I had intended to make short posts all summer---about things of interest, little ideas that interest me, events taking place---but it didn't happen. Trying to describe what August on the Maine Coast is like for those of us who work here in Vacationland while all of America is visiting, and a year's worth of events are scheduled in the middle two weeks, is like trying to describe being hit by a speeding train while parachuting off a the Empire State Building in high winds while waiting for a plane in an airport in Calcutta during a monsoon during the lightening round of Jeopardy while trying to play the kazoo standing on one's head 40 feet underwater during a triathalon without a paddle. No, never mind. That doesn't even begin to adequately describe it. Let's just say it's intense, not for the disorganized or faint of heart and one doesn't get many breaks to sit down and upload pictures to the internet.
There are several particularly interesting museum exhibits up here this summer. The big summer exhibit at the Farnsworth Museum in Rockland features works by American Impressionist Frank Benson, all painted at his summer home on North Haven Island in Penobscot Bay. It's a sweet, lovely show.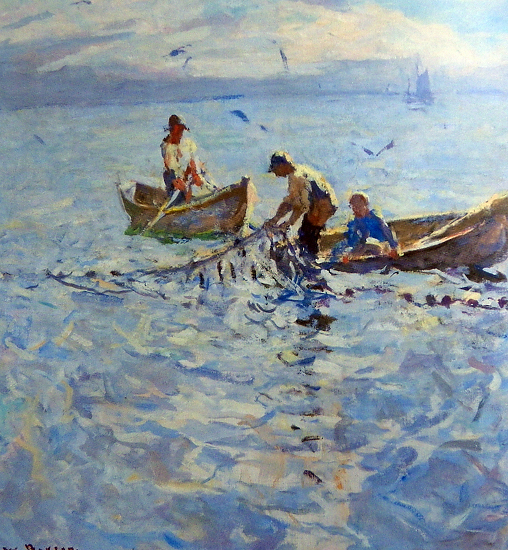 'Rainy Day' by Frank Weston Benson, depicting the artist's own living room on North Haven.
The Living Room today, with later murals by Benson (VRBO)
Benson's North Haven Farm is available for summer rental, for those who want total immersion. Click
HERE
Also at the Farnsworth is a fascinating little show, 'The Homestead Project'. The Farnsworth Museum's campus includes the 1850 Greek Revival homestead of the Farnsworth family, a classic in-town Greek Revival village house.. For the Homestead Project, ten architects were invited by assistant curator Jane Bianco to submit designs for a 21st century house for the property, an urban house for the new century.
The Farnsworth Homestead
Architect Bruce Norelius, Devin Saez, Associate, and Brian Briggs, model builder, of Bruce Norelius Studio, Los Angeles, California and Maine (From The Homestead Project)
Christopher Campbell of Christopher Campbell Architecture, Portland, Maine (From the Homestead Project)
The catalog for The Homestead Project may be browsed online
HERE
At the Portland Museum of Art, is an exhibit of Frederick Edwin Church's Maine paintings and sketches, on loan from Olana, the Church homestead near Hudson New York and curated by John Wilmerding. Sublime indeed.
Twilight: Mt, Desert Island, Maine (1865)
Mt. Desert Island from Dorr Mtn. (July-Aug., 1850)
Mt. Katahdin fromm Millinocket Camp (1895)
Of course, given my compulsion for comparison, it is irrestible to add this view of Mt. Katahdin by Marsden Hartley in contrast to Church's vision:
Mt. Katahdin # 2, by Marsden Hartley (Metropolitan Museum)
The Mount Desert Historical Society's Schoolhouse Museum in Somesville is a wonderful exhibit about the Mt. Desert-born architect Fred Savage 1861-1924), curated by Gerard Vasisko. Savage worked for a time for Peabody & Stearns, who heavily influenced his work. He also was associated for a time with Sidney Stratton, a former Richard Morris Hunt apprentice who shared office space with McKim, Mead & White, and was sometimes known as 'the almost partner'. Savage's debt to all these designers is obvious, but he was a fine and original designer in his own right. Although he worked in many of the eclectic styles of the era, it is the shingled houses he designed around Mt. Desert Island for which he is best known, and which almost define the standard for a summer cottage in that region. Like so many of architects around the turn of the last century, he had a fine hand with drawings and renderings, as clearly displayed in this show. Augmenting the drawings are vintage photographs and papers and catalogs from his office, from the collections of the Mt. Desert Historical Society and the Northeast Harbor Public Library.
Cottage for Mrs. Edith Randolph, Bar Harbor
Anna Clark Cottage, Harbourside, Northeast Harbor
Elevation for Clark Cottage (NEHL)
Unbuilt Cottage by Savage (NEHL Archives)
Rendering for Cottage for Frederick Jackson Turner, Northeast Harbor (NEHL Archives)
'High Seas', the Rudolph Brunnow cottage at Bar Harbor, by Savage
Design for dining room fireplace surround, Brunnow Cottage (MDIHS)
An exhibit I haven't seen, but intend to, features the recently restored 19th century panorama, by many artists, of John Bunyan's 'Pilgrim's Progress by the Saco Museum. 800 feet long, it is displayed in the old Saco Mills building. It may not be high art, and who reads Pilgrim's progress anymore, but the opportunity to see an 800 foot long painting is irresistible, no? For more about this fascinating project, Click
HERE
There are so many other exhibits of interest this summer in Maine Museums, like the exhibit of 46 items from the Allie Ryan Steamship Collection of the Maine Maritime Academy, at the Castine Historical Society and the Wilson Museum in Castine, or 'American Moderns' at the Colby College Art Museum, featuring the work of Walker Evans, Berenice Abbott and Margaret Bourke-White, that I haven't had time to see yet, but worthy of attention.